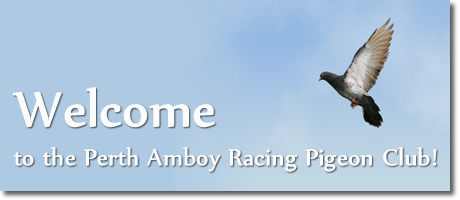 2019 Auctions
Russ Vaccaro Heavenly Loft 11/17/2019, Birds on display @ 11:30 Auction Starts @1:00PM Live and On-Line


Big Andy's Loft 11/23/2019, Birds on Display @ 11:30am Auction Starts @ 1:00PM Live and On-Line
more...
2019 Band Race Advertisements
Advertisements for Band and Bond Races for 2019 are located in the Special Races Folder. Any questions please email Stanley at cjcsecy@aol.com more...
2019 PAOF Young Bird Auction
The 2019 PAOF was held on April 5, the list of birds auctioned will be located in the Upcoming Auctions folder for your review. If there are any errors please let us know.
Please review the advertisements in the Upcoming Auct
more...
Carini Loft Auction January 6, 2019 Perth Amboy Club
Carini Loft Auction will be held at the Perth Amboy Club on Sunday January 6, 2019. Birds will be on display at 12:00 and the auction will 1:00pm.

Any questions please call Vinnie @ 1-646-210-0812 or Stanley @ 732-446-4842
more...
January meeting 1-2-2019 8:00pm

The December Perth Amboy Club meeting will be held on Wednesday night 1/2/2019 at 8:00 pm. The forecast is for snow the meet more...
Jersey Shore Doves
Jersey Shore Doves, White Dove Releases call Sarah 732-492-7351 www.jerseyshoredoves.com more...